Harry Potter movie prop replica - Giant Pygmy puff kit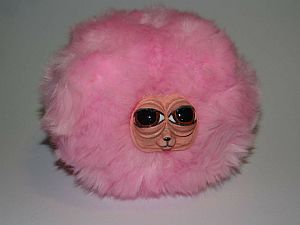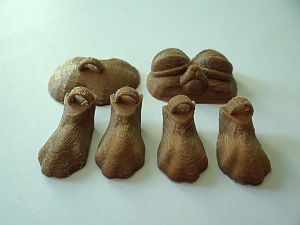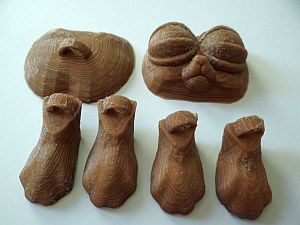 Giant pygmy puff DIY kit
Giant pygmy puff kit
We received several reviews, stating that our pygmy puff kit is too small. Although we still think that is the right size, we created a bigger one.
This is a kit which can be used to create a very realistic pygmy puff similar to the one you can see in the Harry Potter movie, but about twice as big.
Please pay attention this is not an actual puppet, just a set of printed plastic parts unpainted (no fur included - just the head and four legs). You have to build the puppet yourself - if you have average dexterity this should be less then 8 hours with paint and all. The pictures of the puppets are there to reference only.
The puppets on the pictures are about 16 centimeters in diameter, the head is about 4cm / 1½ inch (head) wide. If you want the size in the movie, you can order our normal pygmy puff kit. Please be aware that these are not toys, more like decorations.
Pygmy puff assembly instruction
Step-by-step instrutions for making pygmy puffs.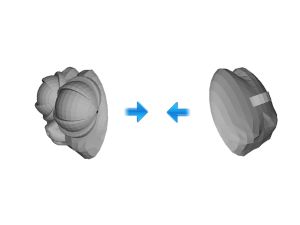 First of all, you will need a fur ball. We used an about 100-cm-long and 6-cm-width artifical fur for the fur ball, but it can be ordered as a ball as well. For the printed parts, the back and front part of the head should be attached together with super glue.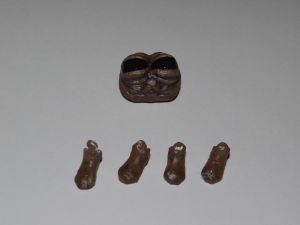 For better results a base coat can be used. All plastic parts should be painted with acrylic or model paint. Use more layers if needed. To reach a more lifelike effect, use matt finish everywhere except the eyeballs. On eyes shiny finish has to be used.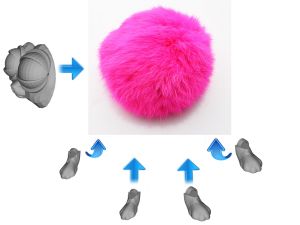 There are hooks on the legs and the back of the head. The parts can be fixed to the furball with thread by the hook. Since the hook is fragile, it is advised to use hot glue also. This will fix them in the right position.
Dimensions
| | |
| --- | --- |
| Diameter: | 4cm / 1½ inch (head) |
| Material: | plastic (PLA) |
| Color: | Gold - unpainted |
Payment
Please make sure the shipping address is correct when making payment through PayPal, we accept PayPal shipping address only.
Pandemic restrictions
Due to the on-going pandemic the post service suspended services for several countries. We try to keep the list up to date and update the countries we cannot ship to, but it still can happen that we are unable to send you your package. Of course if this happens we fully refund you.
Even if we can send your package please expect a longer than usual delivery time due to the pandemic.
Shipping
We send your package as a priority mail. Economy shipping is without tracking, standard shipping includes tracking code. The delivery time is the same for both economy and standard shipping.
Please make sure the shipping address is correct when making payment through PayPal, we accept PayPal shipping address only.
The usual delivery times are described below. Please contact us if you haven't received your item in the stated delivery time below.
| | |
| --- | --- |
| Country / Area | Delivery time |
| Europe / EU: | 2-4 weeks |
| USA / Canada: | 3-5 weeks |
| South & Central America: | 4-6 weeks |
| Australia: | 4-6 weeks |
| Asia including Russia: | 4-6 weeks |