And now something totally different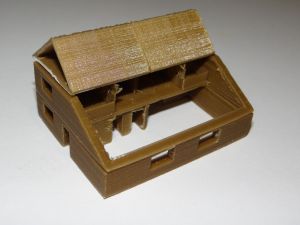 We have been planning to build a passive house for years now. It seems we will have a chance to build it soon and we want to be prepared. We are using the 3D printer to test our ideas. To do so we created a small module for our JavaSCAD framework which helps to create models of a building effectively.
We had a design which we were working on in the last several years. We printed it in a 1 to 200 scale first and made several small adjustments on it. We even created the model of our current flat to compare the lights inside of the model to the one in the new house' model.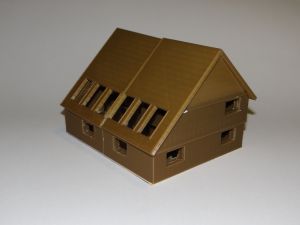 After several iterations we realised we need to make same key changes in the model. We changed them to make the structure of the house simpler, but without loosing the benefits of the preceding layout. We printed it in 1 to 200 scale when we didn't find any obvious problem with it we printed it again, but that time in 1 to 100 scale. Doubling the size helps to see things which were cannot be seen in the smaller model and this size allows us to print small models of furnitures to furnish our mini-house and test the sizes of the rooms.
As you can see on the pictures, we already printed several pieces of furniture: coaches, cupboards and so on. We plan to print every piece of furniture we will have to fully furnish our little house. Maybe this will reveal problems which we wouldn't see anyway. And if it won't it still a good fun to plan the furnishing ahead.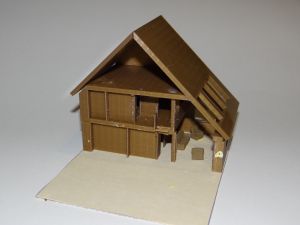 We printed this bigger house in several pieces, because of the size of the print, but we used more pieces, then it was necessary to make the possibility to halve the house and take pictures from the inside. Although the model is more then 10cm in size, we don't have a camera which would fit into it, so this is the only way to make inside pictures. We hope we can try the lights of the house this way, which are very important for us.
Of course this is not the final version of our future house: we already found several serious problem in the design, so definitely a new version will be printed. And presumably even more. This little play with the plan turned to be a very cost-effective way to find design errors before the building operations even begins.