Harry Potter style ink bottle
It fits into our Harry Potter collection quite well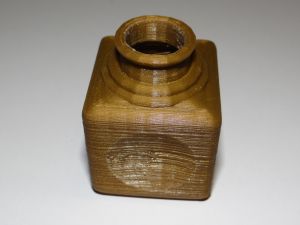 We wanted an ink bottle which will fit into our Harry Potter collection. We found a few good one on eBay, but none was perfect. So we created a model based on the best properties of the better ones.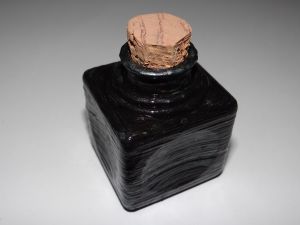 The printing itself took ages, but other than that there was only one problem: the X belt was already stretched when we printed this and it can be seen on the result too. Of course the first thing we tried after the printing was done was to test if the result is suitable for holding liquid - and it turned out it is not. It seems there is enough space between the small strings of plastic for the water to make it trough. It doesn't really matter, because we wanted this for decoration purposes only, but still it's good to know.
The painting was simple, but time consuming: several layers of the special colors was designed to imitate years of usage just to make the result even more authentic.