Failures to print linklings
We knew it's hard to print, but we didn't expect we would fail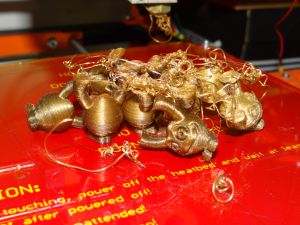 We found the design of a Linkling on Thingiverse and decided to print some for our liking.
We have lots of experience in 3D printing, so we saw there would be problems with it. Mainly because of it's hands - there are very little material in it, which makes cooling especially tricky. And if we have to name a serious problem for our printer, this is cooling. We decided to print nine linklings together, to help the cooling: more time to print one layer, more time to cool. But as you can see the print still failed badly.
We tried several times with little changes, but the general result was the same. We will try it again sometimes, but now we need to print other things, so far this is the result.