Everyone needs at least one minion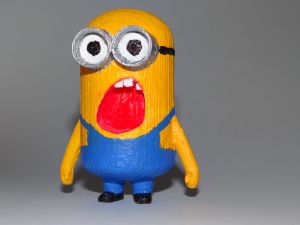 This minion was one of our first prints more than a year ago, but somehow we forgot it after we glued the two parts together and we just found it recently. Of course we painted it based on what we saw in the Despicable me movie.
Painting a so old print was an interesting and edifying experience. We just realized how our printing quality has improved in the last year. The quality of this print was way below our current printing quality. So much that you can see the difference even after we painted it and we couldn't use model paint this time, but only the good old base coat + acrylic paint version.