First print on the new glass
Finally the new glass has arrived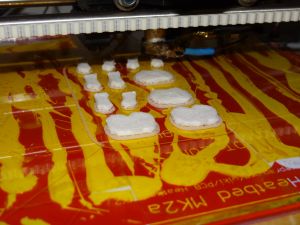 When we broke the glass of the printer bed we thought we have a spare one. It was a little bit smaller, but we wanted to try a different approach to install it, so it sounded good. But when we tried to put it on it turned out it is not small enough. Just a few millimetres, but it was too wide to put it on the way we wanted. So we ordered a new, even smaller glass right after that, which has arrived recently.
We used generic CPU heatsink glue to glue the glass to the heater - this way we hope for a more even heat distribution. We used the glue to remove any tension from the glass. We really hope this will be enough to prevent any more glass accident.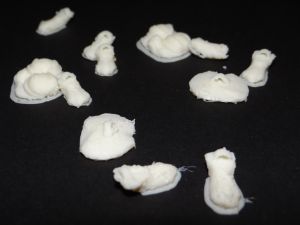 Of course if we do anything with the bed we have to calibrate the printer again. As it can be seen on the pictures, we missed it for the first try. The bed is too high, which made the print unusable, but we expected that and we want a few test subject to try the acetone as a finalizing method for ABS. We will report back about the results soon.
Unfortunately the smell we mentioned in our previous post hasn't gone by the air purifier. We need to come up with a new, better solution soon.